**PLEASE READ BELOW DECISION MADE BY THE EXECUTIVE COMMITTEE ON 3/25/20**
CANCELLATION OF MID-TAC 2020 ANNUAL CHAMPIONSHIP TENNIS TOURNAMENT – JULY 3 – 6, 2020
We hope that you and your family, friends, co-workers and associates are safe and adhering to State directives from your Governor or Mayor. Our hearts and souls go out to anyone who has been directly affected by coronavirus. We also pray that all frontline caregivers and hospitals are receiving the Personal Protective Equipment (PPE), ventilators and other important items they so desperately need.
MID-TAC Executive Committee has decided to cancel the 2020 Annual Championship Tennis Tournament scheduled for July 3-6, 2020 in Indianapolis, IN [See below flier]. The virus itself raises a number of health concerns but the inability for people to completely protect themselves or know what to avoid while traveling or being in contact with others, makes it almost impossible to know if you are being exposed to coronavirus. MID-TAC does not want to be responsible for any unnecessary risk for any of our players.
This is an early decision which has allowed MID-TAC to cancel the Marriott Hotel Rooms Contract, North Central High School Courts Contract and Carmel Racquet Club Courts Contract without incurring penalties. It may be that there will be less danger by July but we could not wait to make last minute cancellations. All on-line registration links have now been closed. The Marriott Hotel has also emailed Cancellation Notices to anyone who had a reservation.
It is MID-TAC's desire to maintain the legacy of the Championship Tournament. To that end the 2021 Annual Championship is scheduled to take place July 2-5, 2021 in Indianapolis, IN with some adjustments. More details will be shared in due time on the website at www.midtactennis.org and via email. We look forward to having your support and cooperation through these unprecedented times.
Stay safe and help others as you can!
MID-TAC Executive Committee and Member Clubs
NOTE: 2020 Junior Scholarship Applications [Those submitted will be held for 2021].
Winners from the 2019 Tournament will be honored for the 2021 Application Process.
---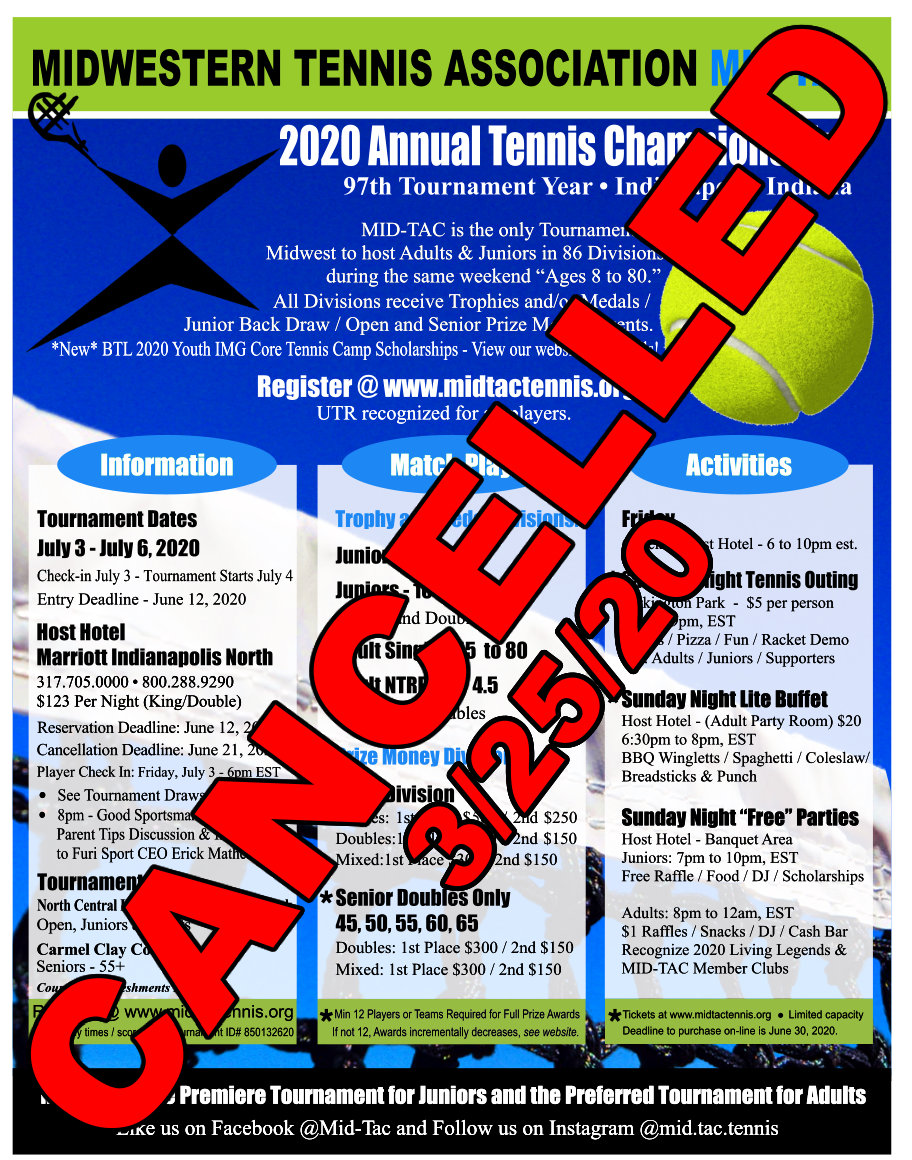 ---
MID-TAC 2020 ANNUAL CHAMPIONSHIP TOURNAMENT
JULY 3 TO JULY 6, 2020
CELEBRATING OUR 97TH TOURNAMENT YEAR!!
View 2020 Tournament Flyer For Details
Directions To Outdoor & Indoor MID-TAC Sites
TOURNAMENT DATES: July 3 – 6, 2020. CHECK-IN: Friday, July 3rd – Host Hotel, 6pm to 10pm est.
TOURNAMENT STARTS: Saturday, July 4th – 8am est., Indianapolis, IN
The Following Links Will Help With Your 2020 Tournament Participation.
MID-TAC 2020 Championship Tournament ADULT On-Line APPLICATION – REGISTRATION IS CLOSED
MID-TAC 2020 Printable ADULT Application – CLICK HERE FOR ADULT PRINTABLE APPLICATION
MID-TAC 2020 Championship Tournament JUNIOR/NOVICE On-Line APPLICATION – REGISTRATION IS CLOSED
MID-TAC 2020 Printable JUNIOR/NOVICE Application – CLICK HERE FOR JUNIOR/NOVICE PRINTABLE APPLICATION
See Details For Bollettieri Tennis & Learning and MID-TAC Junior Camp Scholarships! – Click Here
Marriott Indianapolis North Hotel – (317) 705-0000 or (800) 288-9290
3645 River Crossing Parkway, Indianapolis, In 46240
Make your reservations now!

Click Here
FRIDAY during Check-in at Host Hotel "Good Sportsmanship Panel" @ 8:30pm (for everybody)
MID-TAC 2020 Saturday Night Tennis Outing – Get details and register here – REGISTRATION IS CLOSED
"Free" Junior Party & Scholarships @ 7pm on Sunday and "Free" Adult Party & Living Legends @ 8pm on Sunday
MID-TAC 2020 Sunday Night Lite Buffet – Get details and order here – REGISTRATION IS CLOSED
* * * * * * * * * * * * * * * *
MID-TAC 2020 Tennis Link Tournament ID #850132620
All players will need a USTA Membership # for MID-TAC tournament registration purposes only. Do not attempt to register for MID-TAC on the USTA website. To obtain a free USTA Membership #, please follow below instructions.
Instructions to get a USTA Account at no charge for MID-TAC Draw purposes:
Go to www.usta.com / Select: TennisLink
In the red box area select: Don't have a USTA Account? Learn more and create one today.
On right hand side select: Create Your USTA Account – Complete info and save your ID#.
* * * * * * * * * * * * * * * *
Create your own free UTR Account at www.myutr.com/join – CLICK HERE FOR MORE DETAILS
MID-TAC will enter all scores at conclusion of 2020 Championship Tournament.
---
JULIA STEELE, Tournament Administrator
JACK BARTON, JR., Tournament Director
EXECUTIVE COMMITTEE

 (l to r) Rita Patterson – Secretary, Paula Lewis – Parliamentarian, Bruce Stone – Treasurer, Shirley Roach – Vice President, Margaret Dorsey – President