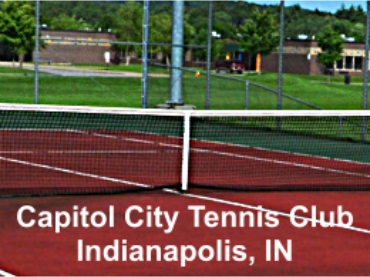 Club Name: Capitol City Tennis Club
City and State: Indianapolis, Indiana
Contact person: Frank Morton, President (317) 370-0363  |  frankemorton@yahoo.com
Club email: capitolcitytennisclub@yahoo.com
MISSION STATEMENT:
OFFICERS:
President: Frank Morton
Vice President: Mary McAteer
Secretary: Ruth Grissom-Morton
Treasurer: James Garner
PROGRAMS: [Seasonal (__) or Year-Round (__)]
(1)
(2)
(3)
(4)
(5)
EVENTS/ FUNDRAISERS:
OTHER PERTINENT INFORMATION ABOUT OUR CLUB:
The Capitol City Tennis Club was founded in Indianapolis, Indiana over ninety years ago by a group of men and women who loved the game of tennis. Their desire to share their favorite sport with others throughout their area resulted in organized tennis within the African-American community.
In the early days, C.C.T.C. played for many years on the tennis courts of Northwestern Park and Douglas Park; the only Indianapolis parks that weren't designated as Whites Only. The members of Capitol City Tennis Club were instrumental in breaking down the racial barriers that had for so long existed in the sport in Indianapolis.
The original purpose of the C.C.T.C. was to promote and provide competitive and social interaction among those in the Indianapolis African-American tennis playing community. Today, C.C.T.C. has updated this purpose to reflect the diversity of the club by simply stating to provide, advocate, educate and encourage all who seek to enjoy the game of tennis.
Our goals are accomplished by being involved at a leadership level and by promoting amateur tennis tournaments at the club level, intra-club play and through sanctioned events under both the American Tennis Association (ATA) and United States Tennis Association (USTA) organizations.
In an ongoing partnership with the USTA, the Capitol City Open tennis tournament is an annual USTA sanctioned event put on by C.C.T.C. Every June since the early 1950s, the Capitol City Open tournament has been held at a local Indianapolis park. For the last several decades, the Capitol City Open has been held at the tennis courts in Riverside Park. Tournament participants come from all over the United States to participate in this fun and competitive adult tennis event. In 2019, during the Capitol City Open tournament, the Indy Parks department renamed the Riverside Park tennis courts to honor tennis advocate, mentor, coach and former CCTC President, the late Marion Rice. The members of C.C.T.C. were present to help celebrate this great honor.
Also, C.C.T.C. has been proud to host the Midwestern Tennis Association Championships (MID-TAC) yearly since 1979. MID-TAC has events for juniors, adults and novices. The tournament will be played on the courts of North Central High School and the clay courts of Carmel Racquet over the July 4th holiday and weekend.
Capitol City Tennis Club has members of all ages and skill levels. Please contact us at the email above for information on our many membership options and our next planned event. We would love to invite you to join us at a team practice or club match. We can also provide you with the entry forms for the Capitol City Open tournament in June and the MIDTAC Championships in July.
We look forward to hearing from you!