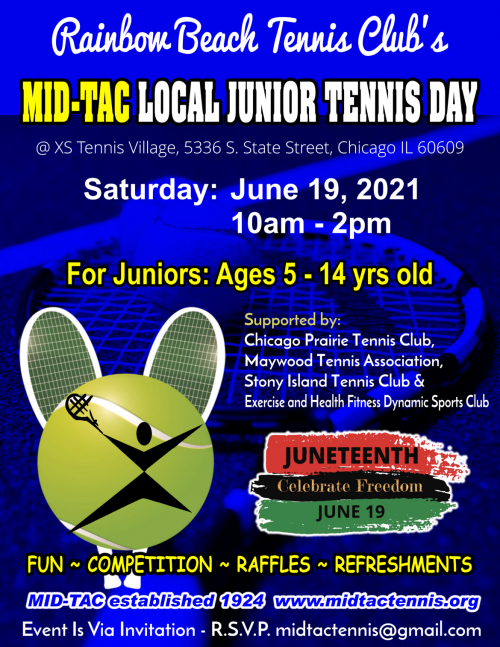 Rainbow Beach Tennis Club and President, Shirley Roach, were the proud hosts of the MID-TAC Local Junior Tennis Day event held at XS Tennis Village in Chicago, IL on Saturday, June 19, 2021 from 10am to 2pm. Several local junior tennis organizations, coaches and families were invited to attend this "free" event. The day included on-court drills for playing levels of beginner, advanced beginner and intermediate juniors. All of our volunteer coaches were top quality coaches and in place to handle each of our 4 courts. Our group picture at the end of the first portion of the day includes the juniors, our coaches and additional on-court volunteers from our Chicago tennis community.
We provided lunch for each junior, plus their parents and siblings. During lunchtime we held a brief program giving the history of MID-TAC and a detailed description of the history of JUNETEENTH which had just become a national federal holiday signed into law by President Joseph Biden on Thursday, June 17, 2021. It gave us great joy to share this momentous occasion with our juniors and guests.
Lunchtime ended with a raffle of tennis giveaways that delighted all of our juniors. The sets of overgrips were donated to MID-TAC by an African American business, FURI Sport which can be located via their website www.furisport.com. The stainless steel water bottles for MLJTD, with the MID-TAC logo, were very special because they will forever commemorate this first time event sponsored by MID-TAC. All volunteers also received a black face mask with MID-TAC printed on it with our logo. Safety was foremost on our minds after hopefully now getting through the worse of the Covid-19 pandemic.
The day ended with on-court competition with 1st, 2nd and 3rd pl. medal winners (see pictures). Also upon leaving, chocolate treats were provided by a supporter of Rainbow Beach Tennis Club, as well as parfait desserts donated by XS Tennis Village's Management. Everyone departed happy, exercised and with new friendships.
Rainbow Beach Tennis Club and MID-TAC would like to thank all of our volunteers for their hard work and support. It may be that a new tradition has been started. Our history is very important and having events like this helps to keep them alive".
PICTURES FROM THE GREAT TENNIS DAY