On Friday, I needed cushion from the madness. Finding evidence of our best selves was the agenda when I went to the corner of Taft and Reading Roads and watched kids learn to play tennis. The soft plonk-plonking of ball off racket sounded like a song of fine possibilities.
Two adults sat with me, in canvas folding chairs adjacent to a tennis court at what is called the Losantiville Triangle. Tony Pack and Rachel Fair are old, sturdy and wise. From experience, they know what it takes to find peace in the world, and to nurture it. The fact they've been teaching tennis in our town for free since 1986 means something. But not everything. Here's what means everything:
Fair: "We want these kids to feel compassion and responsibility for other people. We want them to have a purpose beyond self. They live in the world. They're not monks.''
Pack: "Make your opportunities. The opportunities are here. If you put in the work, someone will recognize that and put in the work with you. Take the initiative.''
Fair is 74 and Pack is 64. They worked for the city of Cincinnati when they started the Inner-City Tennis Project in 1986, 30 years ago. Since, they've expanded the program from six weeks in the summer to year-round. They've taught hundreds of kids to play tennis. They've watched as 90 percent – 90 percent! – of them have gone on to college, many with scholarship money from tennis or academics.
Kids who learned to play tennis at the Triangle have attended some of the finest colleges America offers: Stanford, Cal-Berkeley, Harvard. They have absorbed some Fair-Pack wisdom. Our world is better for their collective presence. Tennis?
The tennis mattered, the way bread matters to honey: It's merely a conveyance, a way to get the honey from the jar to the mouth. "Tennis is the hook,'' said Rachel Fair. "Kids are having fun. It's teaching them how to get along with each other, how to respect other people. How to do your best at whatever it is. If you're happy getting Cs, you're happy getting your family a C. You've got to be A or B. That's life.''
Rachel Fair grew up in Cleveland, the youngest of 10 children. In March 1965, when she was in her early 20s, Fair attended the third march from Selma, AL, to the state capitol in Montgomery, peacefully demanding that blacks be given their legal right to vote. The Civil Rights Act passed that same year. "I know change works,'' Fair said Friday. "I've seen it.''
Tony Pack moved from Avondale to Kennedy Heights as a boy. One Friday night when he was a teen, he waited at the corner of Kennedy and Woodford, for some older friends to pick him up. A neighbor named Chuck Bronson saw him and suggested strongly that young Pack go to the open gym at Shroder School. Pack did.
His friends ended up robbing a gas station that night. "Charles Bronson saved my life,'' Pack said. He said he owes a similar debt to all who had a hand in raising him.
"I had so many local people I looked up to as immediate heroes. I couldn't let the work they put in go down. I don't know if I could live with myself if I didn't give back,'' said Pack.
The pair sits beneath a huge shade tree, admiring the tennis noise and the efforts behind it. On Aug. 14, Fair and Pack will be inducted into the Cincinnati Tennis Hall of Fame. The Good People Hall has not yet been invented.
All we can do is all we can do. Pack and Fair are stitches in the local fabric. They matter, in a way so fundamental, everything we are and aspire to be depends on people like them.
"We're going to be talking to them about the shootings,'' Pack said.
I asked what he wanted the kids to know.
"All police are not bad,'' he said. "Police are people. You always show that other person the same respect you want shown to you. Even if you have to show it first.''
"It's too easy to draw a gun, on either side.'' said Fair.
"Escalation is easy. Staying calm is hard,'' said Pack.
It has been a rotten few weeks for humanity. The violence is wanton and relentless. A country built on the promise of its future is now more scared than optimistic.
That said, nothing has been invented that's better than sports at keeping kids straight. The kids playing tennis at the Triangle Friday are all ages, but most are between about 10 and 14. Their future is big and wide. What should we tell them to believe in?
---
---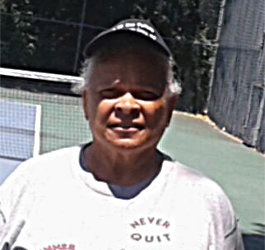 Rachel Fair began playing tennis at age 14 in Cleveland. She entered and won the 16 & Under Plain Dealer City Tournament when she was 15. The Forest City Tennis Club gave her opportunities to play tennis and compete with other American Tennis Association clubs and players. In 1957, Fair met Arthur Ashe and watched her hero, Althea Gibson, play at an exhibition at the ATA Nationals. In Cincinnati, Fair began her career with the Cincinnati Recreation Commission, supervising a number of programs, including the National Junior Tennis League.She helped found the Inner City Tennis Project, which aims to provide an affordable tennis experience to children in Greater Cincinnati.
---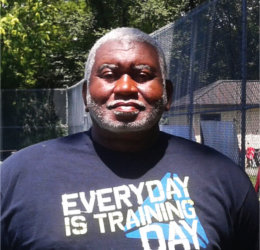 Anthony Pack graduated from Woodward High School and the University of Cincinnati. In 1991, he was the Colonial Racquet Club Men's 3.5 division champion. From 1991 to 2005, he was a USTA certified tennis official and is currently a USPTR certified tennis professional. He retired from the Cincinnati Recreation Commission after 34 years of service. He founded the Inner City Tennis Project with Rachel Fair in 1986. Pack serves on the boards of the Greater Cincinnati Tennis Association and the Midwest Tennis Association.