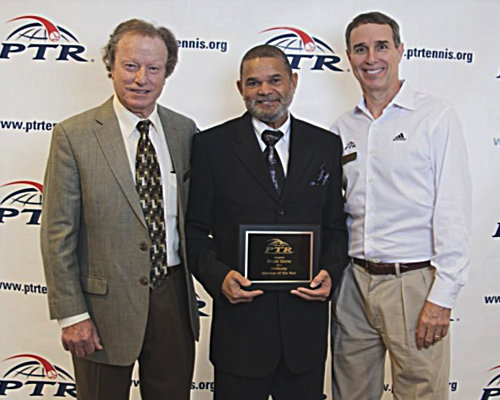 Hilton Head Island, SC – Professional Tennis Registry (PTR) presented its annual awards today during the 2017 PTR International Tennis Symposium. The event, which includes more than 40 educational presentations for tennis teachers and coaches, is underway through February 18 on Hilton Head Island, South Carolina.
Bruce Stone, of Louisville, Kentucky, has been named PTR Member of the Year for the State. This award is presented to a PTR member who has shown dedication and diligence in promoting and supporting tennis and PTR. A member since 1993, Stone is a certified PTR Professional who has been teaching tennis for more than 40 years.
Stone is the founder and Director of the Rising Stars of Kentucky Tennis, a National Junior Tennis and Learning (NJTL) program. Rising Stars was honored by USTA as the 2007 National Program of the Year and was featured in Tennis magazine. NJTL programs promote life skills, as well as tennis.
Rising Stars has produced 14 junior winners of the Arthur Ashe Essay Contest with both USTA and Southern Section winners. Since the start of this contest, Rising Stars has produced more winners than any program in the United State. Rising Stars offers year round, with summer and autumn sessions at the Newburg Park and winter session at the University of Louisville Bass Rudd Tennis Center. Rising Stars members pay a small annual fee, 100% of which are put back into the program. Stone and several other certified teaching pros donate all their services at no charge.
For 14 years, Stone worked at USTA Kentucky with CommunityDevelopment, Junior Team Tennis, and USA School Tennis Program. After retiring from his USTA position in 2012, he became an independent contractor teaching tennis with Louisville Metro Parks and Louisville 10 and Under Tennis Association. The Association provides tennis lessons in Louisville Metro Community Center, Metro Parks, Boys & Girls Clubs and conducts multiple after school programs. Stone continues to volunteer his time in the annual eight week Summer Tennis Clinic run by his local CTA that attracts more than 130 youth and adult participants. In 2008, it was named the Tennis Event of the Year by the Kentucky Tennis Association.
Stone is Vice President of his Community Tennis Association (CTA), the Newburg Tennis Association (NTA), and serves as Treasurer of the Midwestern Tennis Association (MID-TAC) of the American Tennis Association (ATA), and Treasurer of the Louisville 10 and Under Tennis Association. He is an ATA delegate for MID-TAC. This year, Stone starts serving a two year term on the USTA Kentucky Board of Directors.
PTR is the largest global organization of tennis teaching professionals with more than 15,600 members in 125 countries. It has the greatest percentage of multicultural and women members of any such organization. PTR is dedicated to educating, certifying and servicing tennis teachers and coaches around the world in order to grow the game.
---