Bruce Stone "Regional Legend" Black Tennis Hall of Fame 2022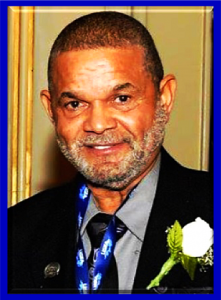 Through his 45+ years of leadership and coaching, Bruce Stone has introduced over 10,000 people in Black communities to the game of tennis.  As a leader, volunteer and coach, Bruce has a superior record of accomplishments.  Now in his late 70's, he can still be found on the courts 20-25 hours per week in the summer and 10-12  in the winter, teaching the game he loves.
BRUCE STONE  –  THE LEADER
It goes back to the beginning.  Two years after learning the game and playing in his employer, GE's, corporate leagues, Bruce was in charge of organizing them.  It continues to this day:  "Hey Bruce, come and play in our Thursday four court league, and by the way, you are in charge."
It is hard to summarize 45+ years of take charge leadership.  While most people have cashed it in at 75+.  Consider all that Bruce has done and continues to do to grow the game in the Black community.
President – The Rising Stars NJTL and a Founding Member



Rising Stars has averaged 40 participants from underserved communities a year for 25+ years.
Rising Stars was the creation of Bruce Stone and a few other tennis enthusiasts as a method to give those in underserved communities an opportunity to learn and play the game of tennis.  The program started in 1993, had a brief dormant period, but was restarted again in 2003 with youth selected from the Newburg Tennis Association summer program. Because of the interest shown from a number of other families, Rising Stars expanded its mission and became an NJTL chapter.  Rising Stars was honored by the National USTA as the 2007 National Program of the Year and was featured in Tennis Magazine.  NJTL programs promote learning as well as tennis.  Rising Stars has produced 16 junior winners of the natonal Arthur Ashe Essay Contest including this year.  Since the start of this contest, Rising Stars has produced more winners than any program in the United States, because Bruce insists that every Rising Star complete an essay.
Kentucky Schools Program Coordinator – USTA Kentucky Tennis Association (KTA)



KTA school programs under Bruce's leadership gave at minimum 400 Black youth a year for 14 years the opportunity to learn tennis.
Following retirement from GE, Bruce had a second career at USTA Kentucky for 14 years with Community Development, Junior Team Tennis and USA School Tennis Programs where he promoted inclusion at every opportunity.  Here is just one example of his contributions.
In the early 90's there was a much needed and well-conceived KTA initiative, to provide programming to youth in the Black communities in Louisville. Programs were started in Newburg, Berrytown, Central Park, and with the West Louisville Tennis Club.  The programs got going and then stuttered and stopped except Newburg. Now, why did the Newburg program succeed?  Well, Bruce Stone will be the first to tell you it was a team effort, but everyone else will say:  "Yes, but without Bruce to get it going and keep it going, it wouldn't have happened."  Remember, this is just one example.
The USTA-KY's annual award recognizing an individual who has developed an outstanding tennis initiative which provides leadership and inspiration in junior programming and benefits the growth of tennis is named the Bruce Stone Education Merit Award.
Vice President – The Newburg Tennis Association and a Founding Member



The Newburg Tennis Association's summer clinics have averaged 120+ participants a year for 20+ years.
Bruce is a founding member of the Newburg Tennis Association and helped to shape that CTA's mission to promote tennis in the predominantly African American community of Newburg.  Ninety percent of the participants in the NTA summer clinics are from the Black community and include players from ages 6 to 60+.  Recently ladies learning the game at Newburg formed a USTA 2.5 team and won their league championship.  The summer clinics run by the CTA have been recognized as the USTA-KY Event of the Year.
BRUCE STONE  –  THE TEACHER/COACH
For the past 10 years, coached 300+ youth per year in Black communities for the Louisville Area 10 and Under Tennis Association.
More than anything the tennis community knows Bruce as the ultimate teacher/coach.  Bruce estimates he spends 20-25 hours on the court a week in the summer, and 10-12 in the other months teaching and coaching.
In addition to his volunteer teaching and coaching with Rising Stars and the Newburg Tennis Association, for the past 10 years, Bruce Stone has coached for the Louisville Area 10 and Under Tennis Association.  LOU10U provides free tennis lessons in Louisville Metro Community Centers, Boys & Girls Clubs, local churches and multiple after schools programs in the historically Black communities of Louisville.  He has also used this position to create tennis teaching opportunities for high school students participating in Rising Stars.
Bruce has twice been recognized as PTR Kentucky Member of the Year in recognition of his dedication and diligence in promoting and supporting tennis and PTR.
For all the acclaim, Bruce will tell you his greatest reward is the "I Did It" exclamation from a kid who hits the ball across the net for the first time.
In summary, through his leadership, volunteerism and coaching, Bruce has conservatively created opportunities for at least 10,000 Black community members to play tennis:  
Rising Stars (250), KTA (5,600), NTA (2,400), LOU10U (3,000).
Volunteer:
Founder, President, Coach Rising Stars of Kentucky
Vice President and Coach, Newburg Tennis Association
Treasurer, Midwestern Tennis Association of ATA
Treasurer, USTA Southern Play It Forward In Metro Parks $70,000 Three Year Grant
League Player:
Started in Corporate Leagues
Played USTA Leagues and achieved a 4.5 rating and was ranked 2nd in Kentucky in his age group.
Tournament Player:
Bruce is a "Living Legend" of the Midwestern Tennis Association of the American Tennis Association which is awarded to those with 30 years of tournament play.
He and his partner, Rita Patterson, won the ATA National Mixed Doubles Championship
He has won the Midwest Association 70+ Championship in addition to countless tournament victories, local, statewide and regional.
Tennis Professional:
25 Year member of the Professional Tennis Registry (PTR)
PTR Kentucky Member of the Yeaqr 2017, second time receiving this award
Tennis Teacher and Coach:
Name sake – Bruce Stone Educational Merit Award, a USTA KY Annual Award
Volunteer Coach with Rising Stars and the Newburg Tennis Association
Paid Professional with the Louisville Area 10 and Under Tennis Association working with School Tennis Programs, Boys and Girls Clubs of Kentuckiana, Churches, and Metro Parks Community Centers
ATA Board Member:
Treasurer, Midwestern Tennis Association of the ATA.
Director of tennis related organizations:
Founder and President of Rising Stars of KY Tennis (MJTL) – 2007 National Program of the Year
Leadership roles with Louisville Play It Forward Grant Executive Committee, Louisville Ten and Under Tennis Association, Rising Stars of Kentucky Tennis, Newburg Tennis Association and USTA KY Board of Directors
Other:
Kentucky Tennis Hall of Fame, Inducted 2017
Harrison County Athletic Hall of Fame, Inducted August of 2017
First African American on staff in a USTA Southern Office – employed for 14 years