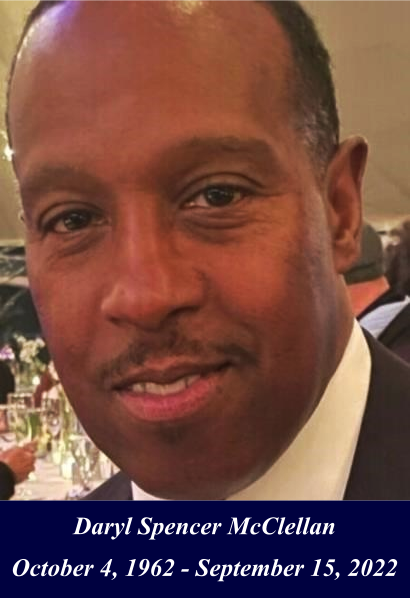 Daryl Spencer McClellan, age 59, of Newburgh, Indiana, formerly of Georgetown, Kentucky, passed away peacefully at 10:38 a.m., Thursday, September 15, 2022, at Deaconess Gateway Hospital in Newburgh. He entered the world October 4, 1962, in Hopkinsville, Kentucky, as the loving son of the late Raymond E. McClellan and Martha Ann Spotts McClellan. Daryl was a faithful member of Nazarene Missionary Baptist Church in Evansville, Indiana, where he served as a trustee, member of the men's choir, was active in the Boys to Men mentoring program, and hosted fitness classes at the church. In recent years, he was a self-employed Electrical Engineering Consultant and previously he worked for Vectren Corporation as a Senior Integrity Engineer III and Mead Johnson Nutrition as a Global Technology & Engineering Senior Utilities Engineer and Supervisor.
He graduated from University of Southern Indiana with a Masters Degree in Industrial Management in the class of 2004, Vanderbilt University with a Bachelor of Electrical Engineering Degree, Fisk University, with a Bachelor of Mathematics in the class of 1984, and Scott County High School in the class of 1980. He was an active member of Alpha Phi Alpha Fraternity Inc. He was an avid tennis player and was ranked at one time as the #1 tennis player in the state of Indiana, was a professional certified tennis instructor, and was over tennis mentoring programs at Bosse High School in Evansville and Castle High School in Newburgh. He started a fitness program called Peak Performance Coach & Fitness Consulting and was a certified cardio kickboxing instructor.
He leaves behind to cherish his loving memories his loving daughter Kayla Kristine McClellan of Kennesaw, Georgia; three brothers Raymond E. McClellan II of Rockville, Maryland, Hassell H. McClellan of Milton, Massachusetts, and Gerald W. McClellan of Clarksburg, Maryland; one sister Carolyn Ann (James) McClellan-Rose of Lexington, Kentucky; his companion Sharon Walker of Evansville, Indiana; and a host of nieces, nephews, cousins, and friends.
Daryl's life will be celebrated at 11:00 a.m., Friday, September 23, at Nazarene Missionary Baptist Church in Evansville. Pastor Larry Rascoe will eulogize. Burial will be in Maple Grove Cemetery in Georgetown, Kentucky, on Saturday, September 24. Visitation and wake services will be from 6:00 until 8:00 p.m., Thursday, September 22, at Nazarene Missionary Baptist Church. An additional visitation will be held from 12:00 until 2:00 p.m. Saturday, September 24, at First Baptist Church in Georgetown. Elliott Mortuary in Madisonville, Kentucky, is in charge of his funeral services and arrangements. Condolences to the McClellan family can be shared at www.elliottmortuarycares.com.
---
More "MID-TAC In Loving Memory" Articles