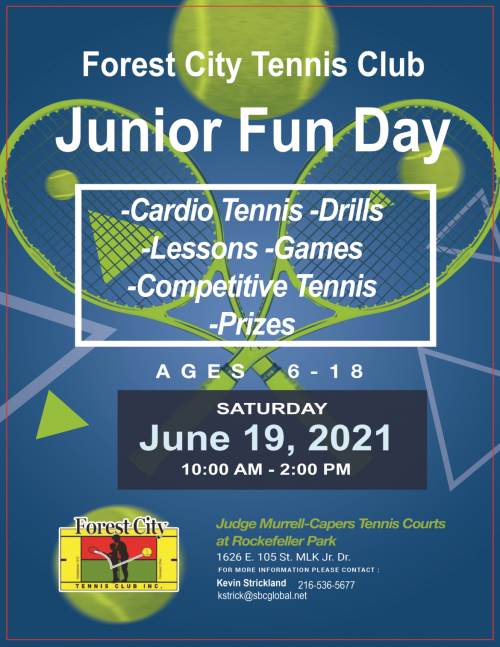 JOINTLY SPONSORED BY MIDTAC, MOTOR CITY TENNIS CLUB, & USTA FOUNDATION
EVENT WAS STRUCTURED AS FOLLOWS:
DRILLS & FREE PLAY
Event began at 10:00 AM with sign-in, drills and free play on three courts. Prizes were given to those participants who pre-registered and brought a guest. Volunteer instructors provided group lessons. Some tournament players arrived early for free play warm-up.
JUNIOR TOURNAMENT
Round robin singles tournament was held with various age divisions. Tournament was limited draw using the Fast 4 format with no-ad scoring. Competition was scheduled to start at 11:00 AM but was delayed 2-3 hours due to rain. Some registered participants left the site and opted not to return when play was continued. There were 29 registered players & 22 actual tournament participants.
MIDTAC raffle prizes were awarded at completion of the tournament.
SPECIAL GUESTS & VOLUNTEERS
Musical entertainment was provided throughout the event by the Grace Notes members of the SCARS Foundation (www.scarsfoundation.org). The mission of Grace Notes is the promotion of mental health through music. During the rain delay, participants gathered in the on-site shelter where a Foundation spokesperson delivered additional tips on achieving good mental health. Also present was Elizabeth Dickison, Development Director USTA/Midwest Tennis & Education Foundation (MTEF) celebrating Motor City Tennis Club's recent acceptance as a new NJTL. Also assisting were members of the Greater Detroit Tennis Alliance (GDTA), a group of six metro Detroit CTA's which includes Motor City. There were also program monitors from Healthy Kidz Inc. (www.healthykidzinc.org), a Detroit organization affiliated with Tindal Recreation Center where Motor City conducts a summer Junior program. Burrell Shields, President of Motor City Tennis Club, also delivered a Juneteenth historical commemoration during the rain delay. There were 15 volunteers, all sorely needed to dry the courts.
Submitted by Burrell Shields, President, Motor City Tennis Club, 7/16/2021.
PICTURES FROM THE GREAT TENNIS DAY
VIDEOS FROM THE GREAT TENNIS DAY
18 yr old TJ – Video 2
2 of 7
18 yr old TJ – Video 1
3 of 7
MID-TAC 2019 TENNIS RUMBLE
4 of 7
JUNTEENTH VIDEO #1
5 of 7
JUNETEENTH VIDEO #2
6 of 7
JUNTEENTH VIDEO #3
7 of 7